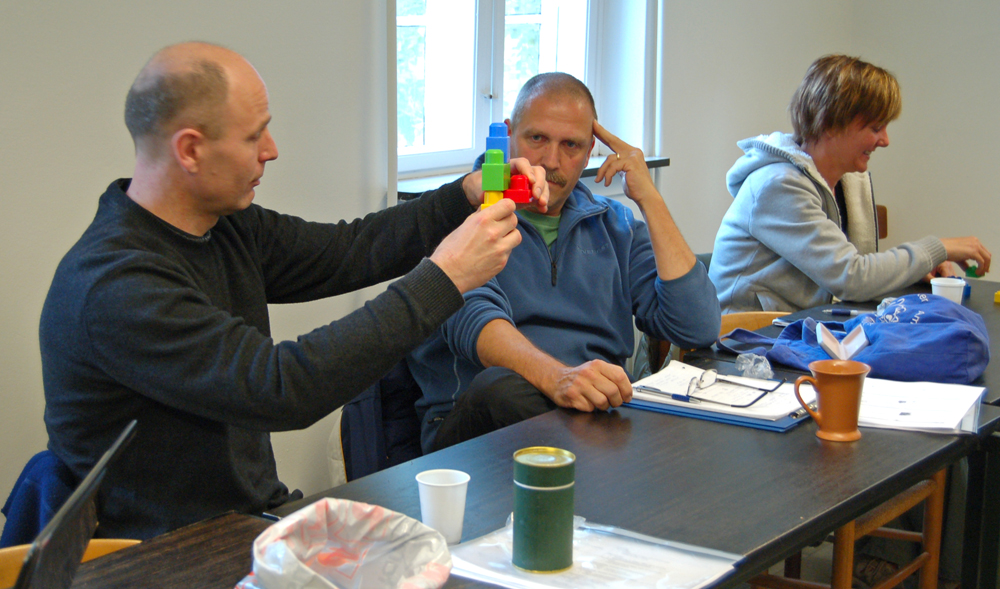 Jeg har lige haft teoriaften for mit nye hvalpehold, og for et par uger siden begyndte vores 13. hold af klikkerinstruktøruddannelsen. I begge tilfælde har jeg ladet mine kursister lege en bestemt klikkerleg, som vi hos Hund & Træning næsten altid har med, når vi introducerer principperne i det at klikkertræne. Der er flere pointer med den her øvelse, men lad mig lige forklare øvelsen i tilfælde af, at der er nogle læsere derude, som ikke kender den.
Kursisterne bliver delt op, så de er to og to. Én skal være træner, og én skal være "hund". De får udleveret fire forskellige duploklodser og en klikker. Den kursist, der skal være træner, skal finde på en opgave, den kursist, der er "hund", skal lære med klodserne. Reglerne er enkle. Træneren skal klikke "hunden" (som kun skal bruge én hånd, ellers bliver det lidt for kompliceret) til at udføre den ønskede opgave. Opgaven kunne f.eks. være at sætte en blå klods oven på en rød, som igen skal oven på en gul. Træneren må ikke sige noget (hverken "nej", "ups", eller lign.), og "hunden" skal, med kun klikkeren som feedback, løse opgaven.
I de fleste tilfælde går den her del af opgaven nogenlunde smertefrit. "Hunden" får i de fleste tilfælde løst opgaven, mere eller mindre hurtigt afhængigt af trænerens evner til at time klikket korrekt. Når begge kursister har været både "hund" og træner, twister jeg opgaven en smule og giver en af kursisterne en sværere variant, de skal lære deres "hund". Den opgave er typisk noget med, at "hunden" skal gøre noget anderledes med én bestemt klods. F.eks. tage den blå klods og sætte den på hovedet, på gulvet, sit lår eller på et bord. Denne type opgave gør lige pludselig legen meget anderledes, og jeg ser ofte væsentlig mere frustration, når kursisterne træner den her type opgave. Jeg har en helt bestemt pointe med at give kursisterne denne type opgave. Det handler om det at få den rigtige ide – dvs. evnen til at kunne tænke ud af boksen. Hvorfor er denne variation ofte så svær? Det skyldes vores forventning til, hvad man skal gøre, når man har med klodser at gøre. Vores første tilskyndelse, når vi har fire klodser til rådighed er, at vi skal bygge noget, for klodser er da til for at blive bygget med. Med mindre vi som "hund" tænker ud af boksen, kan det være meget svært for træneren at få "hunden" på andre tanker. De personer der skal gætte opgaven, forsøger ofte et utal af kombinationer, og kan være meget vedholdende i deres forsøg, også selvom de stort set ikke får nogen klik. Med det følger ofte en del frustration. Det kræver evnen til tænke kreativt, enten som træner eller som "hund", hvis man skal have opgave løst uden alt for meget frustration. Som træner kan man, hvis man enten har viden eller evne til at tænke kreativt, gøre opgaven lettere ved at ændre det setup, vi begynder med. I min snak med kursisterne efter jeg har stoppet legen, gør jeg ofte et nummer ud af at fortælle, at jeg aldrig har sagt, at alle klodser skulle være tilgængelige. Ved at ændre på setuppet og i det her tilfælde f.eks. kun at have én klods tilgængelig, er det væsentligt lettere for "hunden" at få den tanke, at klodsen kan bruges til noget andet end at blive sat sammen med andre klodser.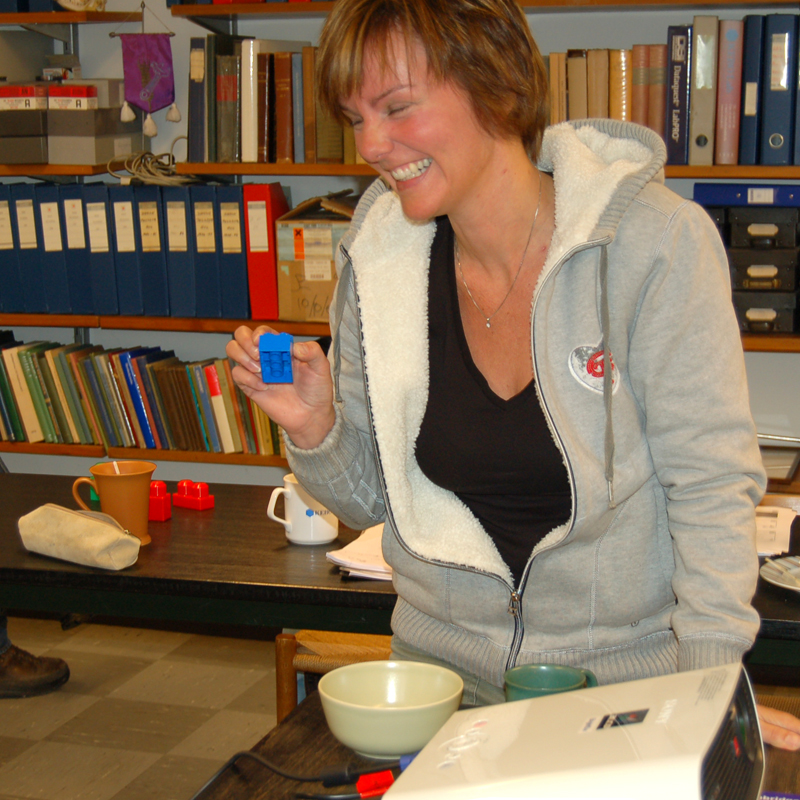 Den samme problematik kan opstå, når vi træner vores rigtige hunde. Vi kan uden at ville det komme til at sætte hunden i situation, hvor hunden vil "bygge med klodser", og vi vil "have klodsen på gulvet". Vi kan selvfølgelig forsøge at gøre det lettere for hunden, ved at ændre på setuppet på en sådan måde, at hunden får lettere ved at udvise adfærd i den ønskede retning, men det er ikke altid nok. Nogle variationer er sværere, fordi hunden simpelthen ikke kan få den rigtige ide. Skal du f.eks. lære en utrænet hund at stikke hovedet ind i noget (f.eks. en spand), så kan du formodentligt hurtigt få hunden til at forstå, at hovedet skal ind i spanden. Men hvad hvis du gerne vil have, at den fastholder hovedet inde i spanden? Når du tilbageholder klikket, skal hunden få den ide, at det er fastholdelse, du ønsker og ikke alt muligt andet. Det er ikke sikkert, at hunden overhovedet overvejer, at fastholdelse er en mulighed – ideen opstår simpelthen ikke. Til gengæld risikerer du at få al mulig anden adfærd, når du hæver dit kriterie, og fordi forsøgene ikke bliver belønnet, medfører det ofte en del frustration hos hunden. I andre tilfælde kan andre øvelser være en forudsætning for at få det til at lykkes. I det her tilfælde, kan det f.eks. være en ide at have lært hunden konceptet "fastholdelse" i en øvelse, hvor det er lettere at forstå, så hunden kan komme på den ide, når du hæver kriteriet i andre sværere øvelser.
Kun ved at træne med vores hunde og have fokus på både at få lavet det rette setup og på at få lært hunden den basiskompetence, at variation kan svare sig, kan vi gøre træningen lettere for både hund og træner. Vi skal med andre ord have fokus på at få hunden til at forstå begrebet variation i en meget bred forstand. Så snart den evne er på plads, glider træningen ofte meget lettere. Når en kursist har prøvet klikkerlegen og har lært, at han/hun kan gøre andet end at bygge med klodser, er der næsten ingen ende på, hvor let det er at få al muligt adfærd frem, f.eks. tag klodsen, rejs dig og gå over og sæt den på en lampe. En adfærd der er næste umulig at få frem, hvis den, der leger "hund", ikke først har lært at tænke mere varieret.
Prøv evt. selv at træne denne klikkerleg med andre du kender – gerne forsvarsløse familiemedlemmer og venner, der ikke er klikkerkloge.