Så er jeg kommet hjem fra en super fantastisk, men også hård uge med præsentationer, der omhandlede alt muligt omkring dyr og det at holde dyr. Jeg har hørt præsentationer om træning af alligatorer, studier af synet hos flagermus (de kan faktisk se en del), forskellige måder at berige diverse dyrarter holdt i fangenskab, adfærdsproblemer hos reptiler (og jo, de kan også få adfærdsproblemer), fugletræning af diverse arter fra papegøjer til rovfugle, empowermenttræning af en elefant (det var ikke det, de kaldte det, men det var det, det var) og meget, meget mere. Derudover har konferencen budt på super besøg i København Zoo, Den Blå Planet og Odense Zoo, hvor vi har set en masse forskellig træning. Jeg vil kort beskrive en af de præsentationer, der virkelig rørte mig. Jeg har ingen billeder af præsentationen, da jeg var helt tryllebundet igennem hele præsentationen. Denne præsentation endte da også med at vinde ABMAs Impact award.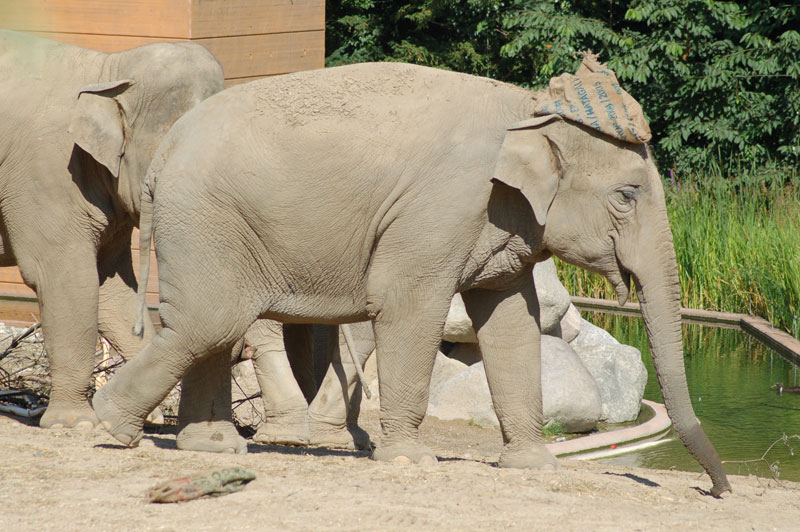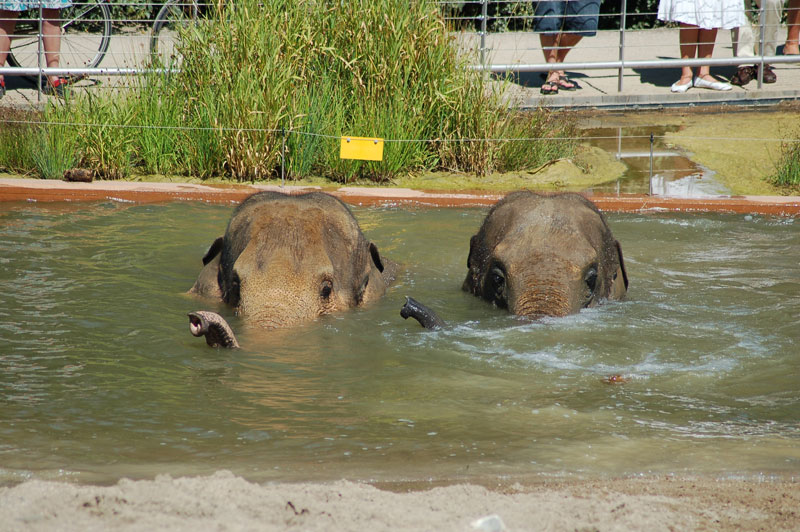 Titlen var: "Positive reinforcement as a replacement of the antique training methods at Elephant camps in Asia" og blev holdt af Dr. Gerardo Martinez. Han er dyrlæge og arbejder med elefanter i bl.a. Thailand. Han fortalte sin historie om, hvordan han (næsten ene mand) har vendt mahutters måde at arbejde med elefanter på i Asien. Han begyndte sin præsentation med at vise billeder af de skader, han normalt behandlede hos elefanter. Det var dårlige fødder (som åbenbart er et stort problem for elefanter – også i fangenskab) og sår efter mahutternes stave, hvilket var hårdt at se på. Det er utroligt svært at behandle fødder på en elefant, der ikke har lyst til at blive behandlet, selv med brug kæder osv. Dr. Martinez viste en video af, hvordan nogle mahutter forsøger at få en elefants fod op på en træstup vha. kæder omkring benet. Lad mig sige, at det tog et godt stykke tid og var absolut ikke smertefrit. Dr. Martinez besluttede sig for at prøve at ændre den måde, han behandlede elefanterne på. Han fandt en måde at få finansieret en træningsvæg, så han kunne komme til at behandle elefanterne på en mere sikker måde. Træningsvægen er en stålkonstruktion bestående af to sider, hvor der er åbninger i forskellig højde og brede, så elefanten kan få f.eks. fødder igennem. Det lykkedes for ham at skaffe pengene og få træningsvæggen bygget, og som han sagde med et billede af ham selv siddende foran væggen, så var det bare at vente på en mahut og en elefant, der ville være med. Efter et stykke tid var der en enkelt mahut, der blev tilstrækkeligt nysgerrig og dukkede op. Dr. Martinez targettrænede elefanten med mahutten siddende på god afstand og med armene over kors. I løbet af meget kort tid, kunne elefanten stikke alle fire fødder igennem et hul i væggen og få ordnet dem. Efterhånden kom der flere mahutter og elefanter til, og langsomt blev mahutterne mere og mere nysgerrige. De begyndte at stille spørgsmål til træningen og blev mere og mere interesserede i, hvordan Dr. Martinez trænede elefanterne. Han begyndte at undervise dem i, hvordan han trænede, og langsomt men sikkert begyndte de selv at træne deres elefanter på denne måde. De begyndte at konkurrere om, hvem der kunne træne deres elefant til en udføre en adfærd hurtigst, og billedet skiftede til et, hvor det er Dr. Martinez, der sidder på afstand og ser på, at mahutterne selv træner deres elefanter.
Ordet spredte sig, og sponsoreret af bl.a. flere elefantorganisationer, kom der flere og flere mahutter til fra mange forskellige steder og lande. De lærte alle, hvordan de kunne bygge en sikker træningsvæg og begynde targettræning af deres egne elefanter. De der kommer, får alt betalt til rejse, ophold mv. Targettræning af elefanter har nu med Dr. Martinez' hjælp (og sikkert også en del andre) spredt sig over flere lande. Præsentationen var gennemført fantastisk. Selvfølgelig pga. indholdet, men også alle de billeder og videoer vi fik lov til at se, der gjorde et stort indtryk. Alle deltagere endte med at have fugtige øjne, og Dr. Martinez fik stående applaus. En skotsk dyrlæge jeg talte med senere fortalte, at hun havde været i en af de lejre, hvor Dr. Martinez har trænet mahutter, og i de fem dage hun var der, havde hun ikke en eneste gang set en mahut slå sin elefant eller så meget som hæve stemmen. Det var og er en fantastisk historie om, hvordan positiv træning har spredt sig i den ellers meget traditionsbundne måde at træne elefanter i Asien.
ABMA er en organisation, der er åben for alle, der beskæftiger sig med dyr på en eller anden måde.
Du kan læse mere her: https://theabma.org/