For et lille års tid siden, blev min gamle hund Thekla pludselig meget dårlig. Hun havde ikke været på toppen længe, men denne dag var værre end normalt. Thekla stod bare og kiggede ud i luften. Jeg mærkede hende igennem og fandt en kæmpe byld i hendes bug, som om et eller andet var eksploderet inde i hende. Jeg blev skrækslagen og ringede hulkende til min dyrlæge. Det var søndag eftermiddag, men jeg er så heldig at have verdens sødeste (og dygtigste) dyrlæge, der har givet mig sit privatnummer. Dyrlægen tilbød at køre ind og åbne klinikken, så hun kunne se på Thekla hurtigst mulig, hvilket jeg ikke kan udtrykke nok taknemmelighed over. Jeg kørte straks af sted, mens tårerne trillede ned af mine kinder. Jeg var overbevist om, at jeg ikke fik hende med hjem igen og kunne ikke bære tanken om, at mine nærmeste = Theklas højt elskede mennesker, ikke havde sagt farvel til hende.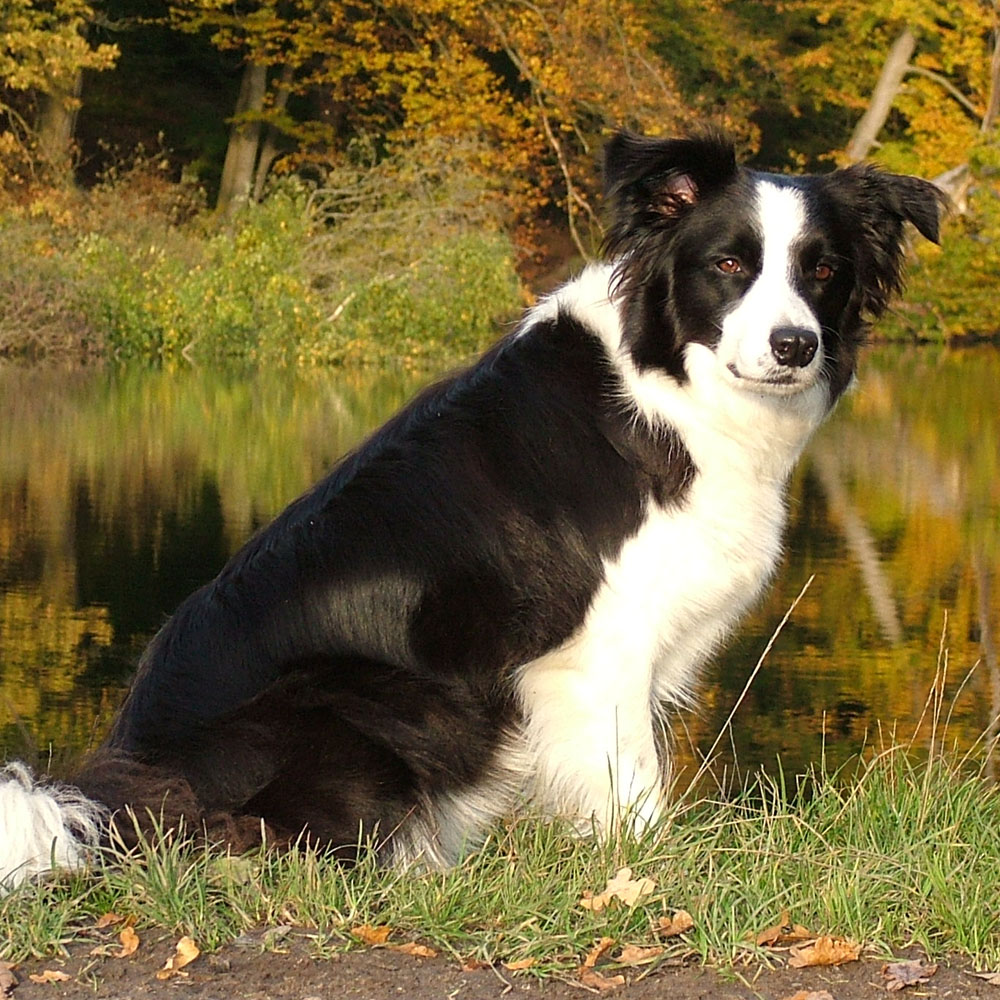 Dyrlægen skar et lille snit i Theklas ene bryst, og så væltede det ellers ud med pus. Jeg skal spare jer for detaljerne og bare fortælle, at det ikke umiddelbart var noget livstruende. Thekla fik en skrap penicillinkur og stor var min lykke, da jeg kunne tage hende med hjem igen.
Men Thekla fik det ikke bedre. Efter diverse blodprøver og undersøgelser, besluttede jeg at hun skulle have fred. Verdens hårdeste beslutning. Men trods alt bedre end en akut aflivning.
På Theklas sidste dag blev hun rigtig forkælet. (Selvom det nu snart er et år siden, løber tårerne ned på mit tastatur, mens jeg skriver dette…) Hun fik alle mulige lækkerier i løbet af dagen. Hendes forskellige yndlingsmennesker kom og sagde farvel. Og om eftermiddagen gik vi en lille tur i skoven, mine børn og mand, min mor, min anden hund Lukka, Thekla og jeg. Det var dejligt vejr, solen skinnede og Thekla livede helt op, begyndte at gø og logre og virkede pludselig helt frisk og begejstret over, at alle hendes kæreste var samlet med hende som centrum. Og i et kort øjeblik blev jeg virkelig i tvivl om min beslutning. Men det holdt ikke længe. Efter turen faldt Thekla helt sammen. Som om hun havde samlet og brugt sine allersidste kræfter.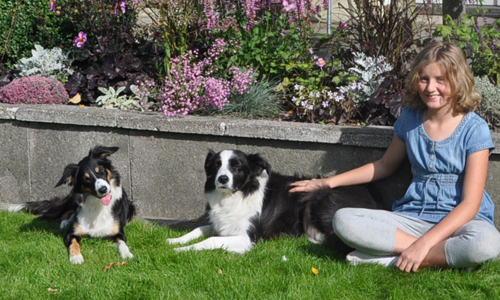 Sidst på dagen kom dyrlægen. Vi samledes alle sammen inde i stuen. Her sad vi i en rundkreds på gulvtæppet med Thekla liggende i midten. Lukka lå i en lænestol ved siden af og fulgte nøje med i det hele. Vi nussede og kælede og snakkede med Thekla, fortalte hende sjove historier fra hendes liv (selvom hun nu var døv!) og fik sagt farvel og på gensyn. Så gav dyrlægen Thekla noget at sove på. Og derefter den endelig sprøjte.
Den sene eftermiddagssol skinnede ind gennem vinduerne. Vi sad alle helt stille hver med en hånd på Thekla og tårerne trillende stille ned af vores kinder. Pludselig begyndte kirkeklokkerne at ringe i det fjerne. Vi smilede til hinanden ud gennem vores tårer. Det lyder måske forkert, men det var en meget smuk oplevelse. En meget fin afslutning på et rigt og dejligt hundeliv. Nu står Theklas urne på hylden over pejsen ved siden af min gamle hund Sambuca.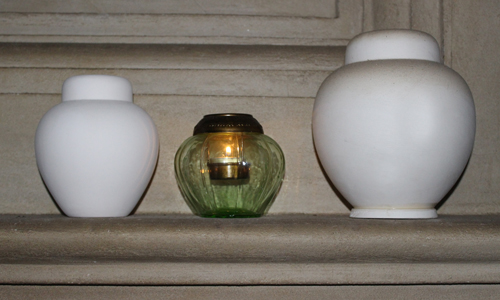 Vi ses min kære firbenede ven
Louisa
Tak Louise, min søde dyrlæge, for alt hvad du har gjort for mig og mine hunde.