Jeg deltog i foråret i en konference, hvor der også deltog en del zoodyrstrænere. I den forbindelse hørte jeg flere oplæg, der omhandlede det man i zooverdenen kalder husbandry-træning. Det handler kort og godt om at lære zoodyr frivilligt at tilbyde adfærd, der gør det muligt for dyrepasserne at tjekke deres sundhedstilstand. Her er nogle eksempler: Elefanter lærer at stikke en fod ud af en lem, så de kan få ordnet fødder. Søløver lærer at få dryppet øjne, så de kan blive behandlet, hvis det skulle blive nødvendigt. Tigre lærer at tilbyde deres ene forpote, så de kan blive injiceret med f.eks. bedøvelse. Det er alt sammen øvelser, som er vigtige for dyrenes helbred og velfærd, og der bliver brugt en del træningskrudt på at få lært de forskellige dyr disse færdigheder.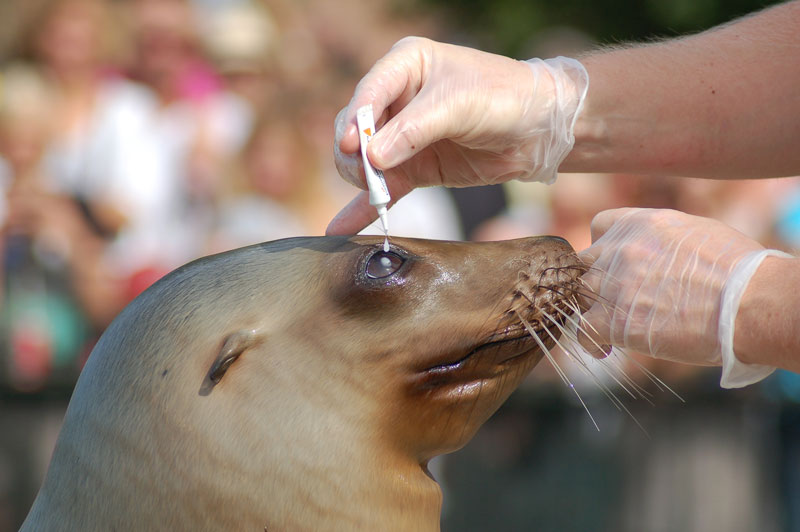 En del af snakken omkring, hvordan man træner zoodyr, handler om at opbygge et forhold til det enkelte individ, man træner. Ved at skabe positive associationer med det enkelte dyr, kan dyrepasseren skabe et tillidsforhold, der gør, at dyrene i en vis grad kan lære at tolerere procedurer, der ellers ville skræmme dem, eller som gør ondt på dem. Uden dette tillidsforhold, kan det være meget svært for en dyrepasser at få lov til at behandle dyr, der f.eks. er kommet til skade.
Et af de oplæg jeg hørte blev holdt af en erfaren zoodyrstræner, der havde overtaget en hund, der viste sig at have massive adfærdsproblemer. I begyndelsen af oplægget spurgte hun ud i salen, hvor mange af os der havde kæledyr derhjemme, som på en eller anden måde kunne betegnes som uopdragne/problematiske. Der var rigtig mange hænder, der gik i vejret. En anden oplægsholder bemærkede, at hun faktisk ikke selv havde trænet sin hund til frivilligt at tilbyde en pote til blodprøvetagning. Selv hos en gruppe af mennesker, som lever af at træne dyr til frivilligt at tilbyde håndtering, har de fleste ikke lært deres hunde og katte det. Jeg skal på ingen måde pege fingre – jeg har selv to hunde, hvoraf ingen af dem bryder sig spor om at få klippet negle. Det fik mig bare til at tænke, hvorfor er det, at vi (selv os der burde have viden og evner til det) ikke lærer vores hunde at tilbyde helt basale håndteringsøvelser frivilligt?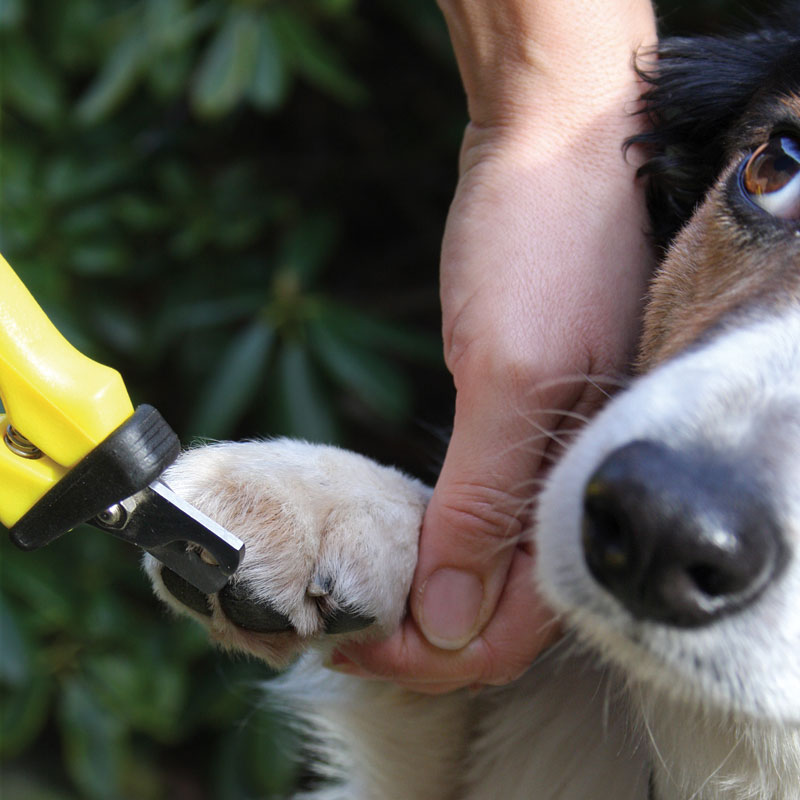 Jeg har ikke svaret, men jeg har gjort mig nogle tanker om det. En tanke er, at det er omkostningsfrit for os ikke at lære vores hunde at blive håndteret. I modsætning til zoodyr, kommer vores hunde til os med en enorm stor tillidskonto. Normale hvalpe er tillidsfulde overfor mennesker og danner meget let sociale relationer til os. Det betyder, at vi kan gøre rigtigt meget, der er ubehageligt for hunden, uden at de bliver farlige for os. Tænk på alle de hunde, der bliver behandlet hårdt, råbt ad, slået og misforstået i helt urimelig grad. Mange af de hunde vil stadig gerne være sammen med deres ejere, og selvom der helt klart er nogle af dem, der får alvorlige adfærdsproblemer, er der rigtig mange, der lever med at blive behandlet på den måde. Hvis en dyrepasser prøvede den strategi på f.eks. en tiger, ville det meget hurtigt gå galt. I gamle dage, før man for alvor begyndte at træne zoodyr, var man nødt til at bedøve dyrene, hver gang der var noget, der skulle ses på. Dyr er virkelig gode til at gennemskue, at der skal til at ske noget ubehageligt, og i løbet af meget kort tid, havde man dyr, der stressede og udviste aggressiv adfærd, når der skulle til at ske noget. Det kunne sprede sig, så dyrene også blev stressede, når dyrlægen f.eks. bare kom forbi anlægget.
Det er aldrig er uden risiko at bedøve et dyr, specielt et der måske er sygt. Det kræver ressourcer, både i form af penge og antallet af mennesker, der skal være til stede. Det kan derfor svare sig at lære f.eks. en tiger at være mere tillidsfuld og frivilligt at tilbyde adfærd, så en blodprøve f.eks. kan tages af dyrepasseren selv, uden at dyrlægen overhovedet behøver at være til stede.
Hvis en hund ikke vil have klippet negle, kan vi tvinge den – give den mundkurv på, lægge den på siden og bare gøre det. Bliver hunden aggressiv overfor os? Nogle gør, men mange hunde lærer med tiden at affinde sig med det. De bliver hjælpeløse. De ved, de ikke kan undslippe og holder op med at kæmpe. Det betyder ikke, at de har det godt med det. Et forsøg fra Fjord & Bælt på marsvin (dem der svømmer) viste, at selv om marsvinene så ud til at vænne sig til at blive taget ud af vandet for at blive håndteret, så faldt kortisolniveauet drastisk, da de begyndte at træne marsvinene til at tilbyde en halefinne til blodudtagning i stedet. Marsvinene havde lært, at de ikke kunne undslippe og holdt op med at kæmpe, selv om de stadig var lige stressede.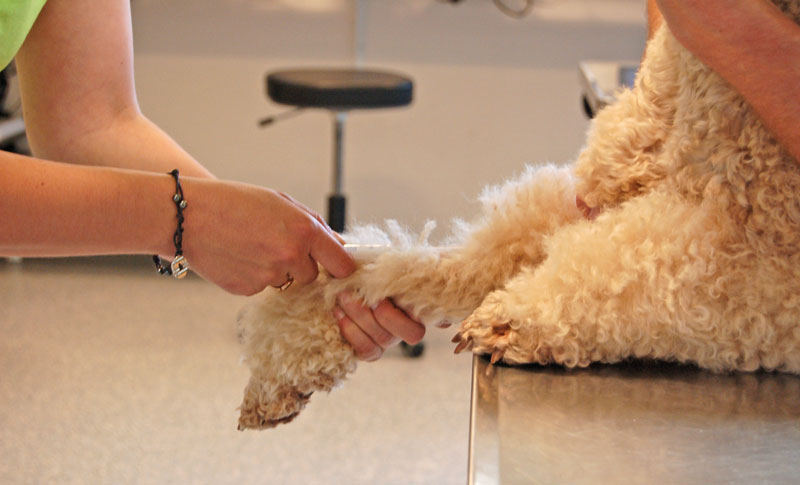 Jeg tror ikke, at den almindelig hundeejer har lyst eller evner til at bruge den tid, der er nødvendig for at få en hund til frivilligt at tilbyde en pote til negleklip/blodprøve, men det betyder ikke, at vi ikke kan gøre det mindre ubehageligt for vores hunde (og katte) at blive håndteret. Jeg har arbejdet en kort periode på en dyreklinik og har set virkelig mange hunde og katte være voldsomt stressede, fordi de skulle håndteres af enten mig eller en dyrlæge. Hvis din hund ikke kan lide at få klippet negle, så er det helt sikkert, at den ikke kan lide det bedre, bare fordi det er en dyrlæge/veterinærsygeplejerske/hundefrisør, der gør det. Det kan godt være, at den ser mere rolig ud, fordi den har lært, at den ikke kan undslippe, men det betyder ikke, at den synes, at det er rart! Jeg er i løbet af de sidste år begyndt mere systematisk at lære mine kursister at håndtere deres hvalpe/hunde, så hundene i det mindste er vant til det og reelt vænner sig til at blive håndteret, og jeg håber, at du, når du læser dette, lige vil tænke en ekstra gang over, om der ikke var noget, din hund ville have gavn af at få trænet. Og nu vil jeg så lige tage en negleklipper i hånden og træne en gang negleklip på frivillig basis med mine egne hunde.