Jeg begyndte min karriere som hundetræner i Beagleklubben for mange år siden, og var i den forbindelse med på et seminar om klikkertræning med min nuværende chef, Christina Ingerslev. Noget af det jeg husker allerbedst fra det seminar var, da Christina fortalte, at klikkertræning også er en praktisk, teknisk færdighed, på linje med det at lære at cykle eller spille tennis. Min første tanke var "Yes! – så kan jeg også lære det". Vi mennesker er ikke født med viden om, hvordan vi bedst træner hunde. Når vi får en hund, så prøver vi os frem. Ofte uden at vide, hvad vi gør eller hvorfor. Hvis vi ikke ved særlig meget om hunde, så er det let at blive irriteret eller vred og handle derfra, hvis hunden gør noget, vi ikke kan lide. Det betyder ofte, at vi så skælder hunden ud. Det sker jo også i vores kontakt med andre mennesker, bortset fra at vi overfor andre mennesker formodentligt ville hæmme vores adfærd mere på grund af de sociale spilleregler, vi normalt overholder.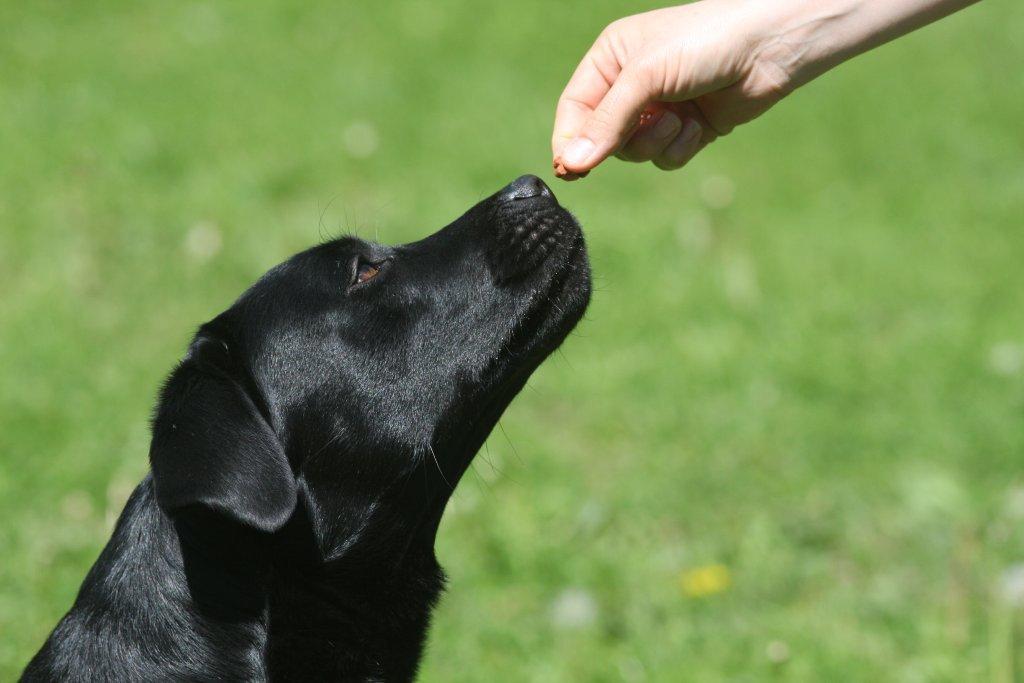 Hos Hund & Træning har vi den holdning, at det at træne hund er noget, vi skal lære. Når vi har lært alt det grundlæggende, dvs. virkelig lært det, så kan vi også meget bedre finjustere vores træning. For os handler effektiv træning i første omgang om tre punkter:
Viden om hundes adfærd, sociale relationer og kommunikation
I zoo-verdenen bruger man udtrykket "kend din art – kend dit individ". Det at vide noget om hundes naturlige adfærd er helt grundlæggende. Det at vide, hvordan ser min egen hund ud, når den er bange, stresset, forvirret eller har smerter, er vigtigt for, hvordan vi tilrettelægger og ændrer den måde, vi træner på. Hunde bruger meget små visueller signaler til at kommunikere med, og jo bedre vi er til at observere disse små signaler, jo bedre kan vi blive til at ændre vores adfærd i forhold til det, vores hund fortæller os. En af de helt store fordele ved at klikkertræne er, at vi øver os i at se små detaljer og dermed læse de "svar", hunden giver på vores træning.
Viden om hvordan hunde lærer – læringsteori
For mig er det helt essentielt, at mine kursister har en forståelse af, hvordan hunde lærer. Jo mere vi ved om læringsteori, jo bedre kan vi arrangere vores træningssetup, så vi har succes med vores træning. Det er vigtigt at vide, at der er fem konsekvenser en adfærd kan have (hunden kan opnå noget behageligt, miste noget behageligt, opleve noget ubehageligt, undgå noget ubehageligt eller opleve, at der ikke sker noget). Det er mindst lige så vigtigt at være bevidst om, at følelser knyttes til det, hunden lærer. På den lille skala, når vi bruger godbidder og legetøj i vores træning, så lærer hunden at associere træning med noget behageligt. På samme måde, men med modsat fortegn, kan hunden lære at forbinde træning med noget ubehageligt, hvis vi skælder ud og korrigerer den meget i vores træning. Den følelsesmæssige association sker ikke kun til træningen, men også mere bredt til os. Al interaktion med os er i princippet træning, og derfor har alle vores interaktioner med hunden betydning. Træning handler ikke kun om at få hunden til at udføre en give adfærd, men bør efter min mening også handle om, hvordan hunden har det, mens den udfører adfærden. For mig handler træning handler i høj grad om at tage en etisk beslutning: Skal min hund arbejde for at opnå noget behageligt, eller skal den arbejde, fordi jeg siger det (dermed sagt, at gør den det ikke, så …). Vi har altid et valg, når hunden udviser adfærd. Samler min hvalp en sko op og løber med den, har jeg flere valg. Jeg kan skælde den ud og evt. straffe den, men jeg kan også lære hunden at det kan betale sig at aflevere og så i øvrigt sørge for, at sko er placeret, så hvalpen ikke har mulighed for at tage dem. Uden bevidstheden om at vi har et valg, ender de fleste mennesker med at bruge den første mulighed.
Praktiske færdigheder – teknikken i at træne
Uanset hvor meget teoretisk viden vi har om hunde og læringsteori, så er træning i sidste ende også en teknik, vi skal lære at udføre i praksis. Vi skal kunne overføre vores teoretiske viden til en praktisk færdighed. Det er ikke nok at vide noget om markørsignaler, vi skal også lære at time markørsignalet. På samme måde skal vi både vide noget om og praktisk kunne dele øvelser op, sætte kriterier, håndtere vores belønninger optimalt, osv. Alt dette skal i øvrigt ske i et samspil med hunden. Vi stiller hunden et spørgsmål, f.eks. "Kan du det her?" og ændrer vores adfærd afhængigt af hundens svar. Det kræver, at vi øver os i at observere, og at vi lærer vores egen hund at kende, så det er lettere for os at se, hvad hunden svarer – hurtigt og klart. Der findes kun én måde at blive bedre til at træne hund, og det er ved at gøre det.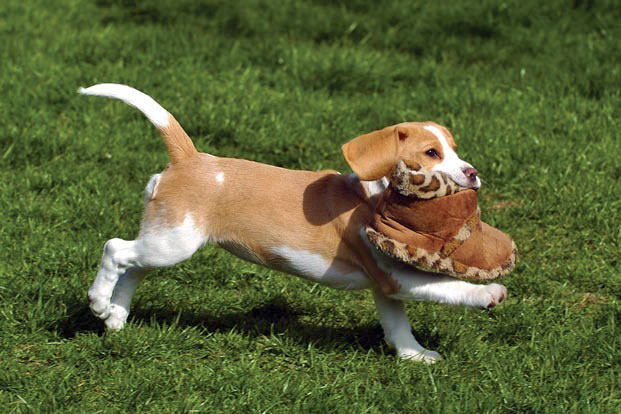 Jeg har efterhånden undervist helt almindelige hundeejere en time om ugen i forløb på 6-8 uger af gangen i mange år. Jeg synes dog, at det er svært at fylde den mængde viden på mine kursister, som jeg gerne vil på 8×1 times træning om ugen, og derfor oprettede jeg i foråret et kursus, der hedder glæde og præcision. Formålet med dette kursus er have fokus på deltagernes praktiske færdigheder. Dels for at blive bedre til at håndtere belønninger, så de og hunden har mest gavn af dem, dels for at bedre deres evne til at aflæse deres hund og sætte de relevante kriterier i forhold til øvelsen og hunden. Over tre gange tre timer skal deltagerne igennem mindst én øvelse fra startindlæringen til fuld signalkontrol. De øvelser de skal træne med deres hunde er nogle, jeg har bestemt, og de har alle et formål i forhold til at styrke en eller flere praktiske færdigheder. Det gælder bl.a. øvelsen ligge på siden, som er en super god øvelse i forhold at sætte kriterier.
Jeg har været så glad for dette koncept (og fået så gode tilbagemeldinger), at jeg har ændret i min almindelige træning, så jeg nu har mere teori med på alle hold, fra hvalpe til konkurrencehold. Jeg har lige afsluttet den første gang træning på den måde, og jeg synes at konceptet virker rigtig godt. Er du instruktør, så vil jeg klart anbefale dig at overveje, hvordan du kan formidle mere teoretisk og teknisk viden til dine kursister, og er du hundeejer, så overvej hvor og hvordan du selv kan få mere viden. Du vil opleve, at din forståelse for hvad der gør din træning effektiv vil forbedres.
Bor du ikke alt for langt fra Hedehusene og har lyst til at forbedre dine praktiske færdigheder, så begynder et nyt Glæde & præcision hold d. 9. november.
Til de af jer der bor i Jylland, tilbyder vi i foråret 2016 igen forløbet Power & systematik, som er et lidt længerevarende forløb, hvor du også har mulighed for at komme i dybden med både teori og de tekniske træningsfærdigheder.