Dette års Nordiske Mesterskab fandt sted i Stockholm. En hyggelig køretur på omkring syv timer. Christina havde været så sød at tage med, selvom hun havde valgt ikke selv at stille op, og det satte jeg STOR pris på. Hotellet var glimrende (om end meget dyrt!) og lå perfekt direkte i forbindelse med hallen. Luftemulighederne var ikke overvældende, men der var et stadion i nærheden omgivet af et græsareal, hvor hundene kunne spæne lidt rundt.
Vi ankom sidst på torsdagen. Køreturen var gået rigtig fint til trods for min meget dårlige ryg, der til gengæld valgte at forringe kvaliteten af min nattesøvn de kommende nætter helt afsindigt. Grrr…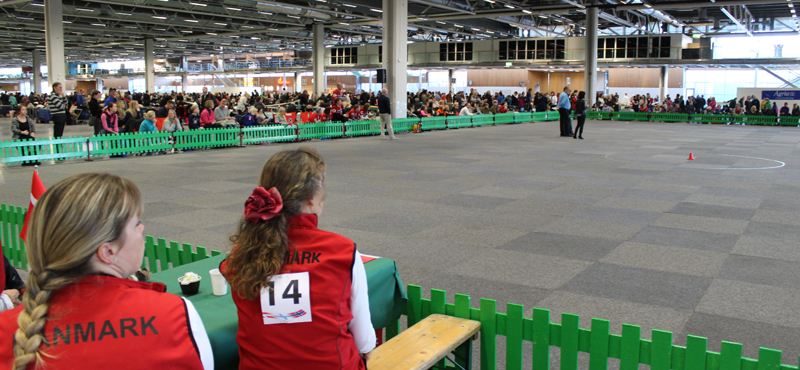 Fredag eftermiddag er der altid træning i ringen, så hundene kan få en chance for at vænne sig til underlaget. Hallen var giga stor. Fuld af udstillingsringe. Helt nede i den fjerneste ende lå LP-ringen. Hallens gulv var lavet af beton. Overalt på gulvet løb der lange baner med metalplader. Jeg går ud fra, at der gemte sig elektriske ledninger el. lign. nede under. Det er ikke noget, man umiddelbart lægger mærke til, da de er malet i samme farve som resten af gulvet. Men enkelte af pladerne ligger lidt løst, så de klikker, når man træder på dem. Sådan en trådte Lukka på og blev skrækslagen. Pludselig turde hun overhovedet ikke gå på gulvet. Hun stod stiv af skræk på neglene med galoperende hjerte som Bambi på isen. Det var absolut værst der, hvor vi havde "lejr". Øv øv… Jeg synes, det var så synd for hende. Det må være rigtig ubehageligt at være panisk over hvert skridt, man tager.
Men i ringen var der heldigvis tæppe på. Tæppet var som altid ret glat, men det generede ikke Lukka synderligt. Hun er efterhånden en erfaren hund og afpasser fint tempoet derefter. Træningen gik rigtig godt. Min største bekymring var springet. Lukka har i sin ungdom slået sig seriøst på et spring og har lige siden – i perioder – været meget usikker, når hun skulle springe. Dette spring var magen til det, hun i sin tid slog sig på (også i Sverige), og det tog da også en del forsøg, før hun var nogenlunde okay med det.
Lørdag
Vi havde fået start nr. 5. Jeg var glad for at skulle starte tidligt. Eneste minus var, at dommernes bedømmelser som regel bliver lidt mildere i løbet af dagen. Der er fire dommere til NM. Højeste og laveste karakter falder bort, og så tager man et snit af de to i midten. En god og fair måde, synes jeg.
Første øvelse var fællessit. Lukka flyttede en enkelt pote, så der fik hun 9.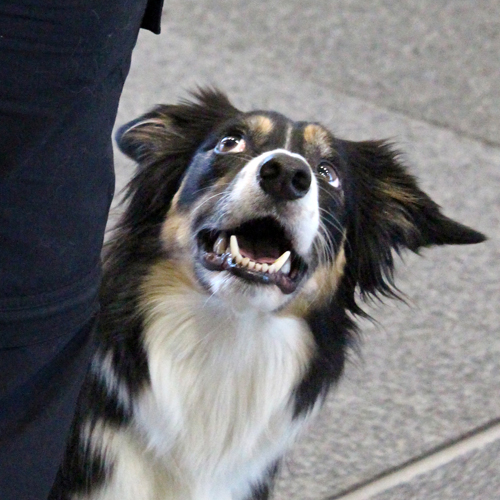 Selve programmet begyndte med fri ved fod. Jeg havde en god fornemmelse i maven, og da vi først begyndte at gå, føltes det fantastisk. Lukka "dansede" ved min side. Jeg havde hendes fulde opmærksomhed, og hun gik så smukt, som hun overhovedet kunne. Jeg synes selv, at nogle af dommerne var lidt strenge i deres bedømmelse. De gav hhv. 7,5 – 8,0 – 8,5 – 9,0 = 8,25.
Derefter skulle vi lave indkald. Lukka kom i fin fart, hurtig men lidt skæv stå, flot dæk og fint indløb. Snit 8,75.
Næste øvelse var fremsending, som jeg synes, Lukka lavede helt perfekt. Pointene var hhv. 7 – 8 – 9 – 10! Hmm… man får jo ingen kritik, så jeg ved ikke, hvad de trak for, men de må jo have meget forskellige kriterier… Et eller andet sted er det lidt useriøst med så forskellige bedømmelser. Som om der slet ikke er nogen retningslinjer for, hvordan øvelsen skal se ud. Men det er der jo netop!
Dagens sidste øvelse var næseprøven. Også her lavede Lukka en rigtig flot øvelse med fin fart og et pænt søg. 7,5 – 8,0 – 9,0 – 9,5 = 8,5.
Vi sprang ud af ringen. Eller nærmere hen til udgangen af ringen. For Lukka ville ikke forlade tæppet og ud på det farlige gulv. Men hold op en fantastisk følelse jeg havde i ringen. Alt gik perfekt, og jeg var flyvende. Resten af dagen kunne jeg sidde helt roligt og nyde alle de andre dygtige ekvipager. Vores præstation rakte til en foreløbig 5. plads.
Søndag
Ny lodtrækning. Denne gang fik vi start nr. 14, hvilket passede mig perfekt. Vi lagde ud med fællesdæk. Lukka lå helt stille i de fire minutter med hovedet limet til gulvet. Da jeg kom tilbage og gik om bag ved hende, rykkede hun hovedet en smule. Det var der to dommere, der trak et halvt point for. Snit = 9,75.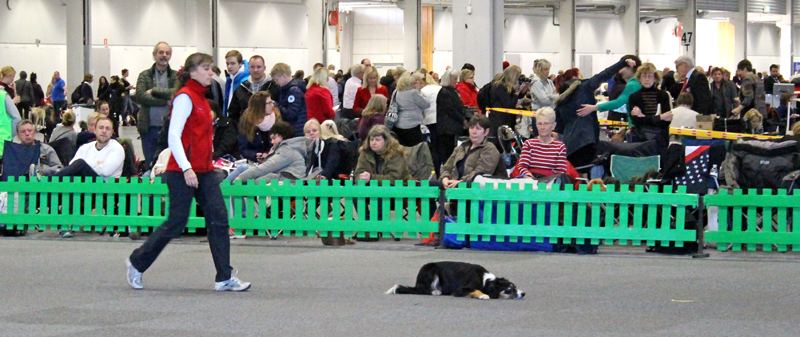 Første individuelle øvelse var lynet. Lukka gik det den smukkeste fri ved fod og indtog positionerne lynhurtigt. Det var en klasse-øvelse, når jeg selv skal sige det :-). Hun fik 9 i snit.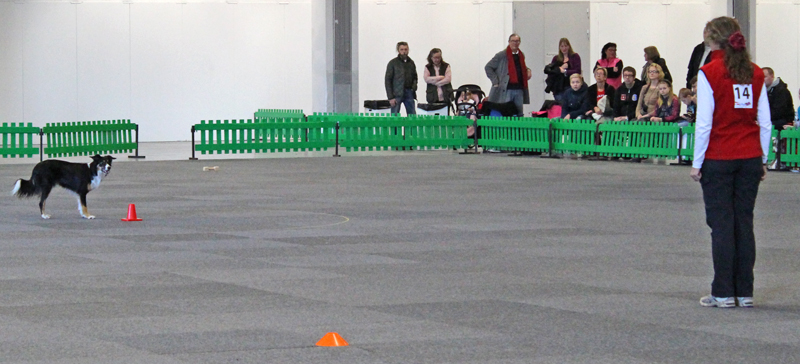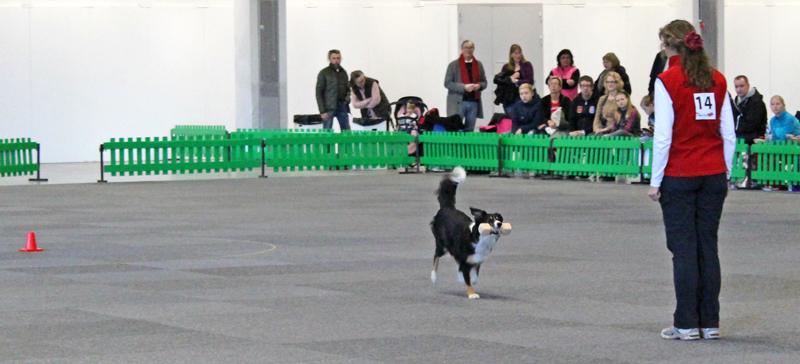 Derefter var det apporten. Flot kegle, flot udløb, perfekt opsamling og rigtig fint hjemløb. Men et lille ryk, mens hun stod og ventede ved keglen på at blive dirigeret videre, er dyrt. Snit 8,75.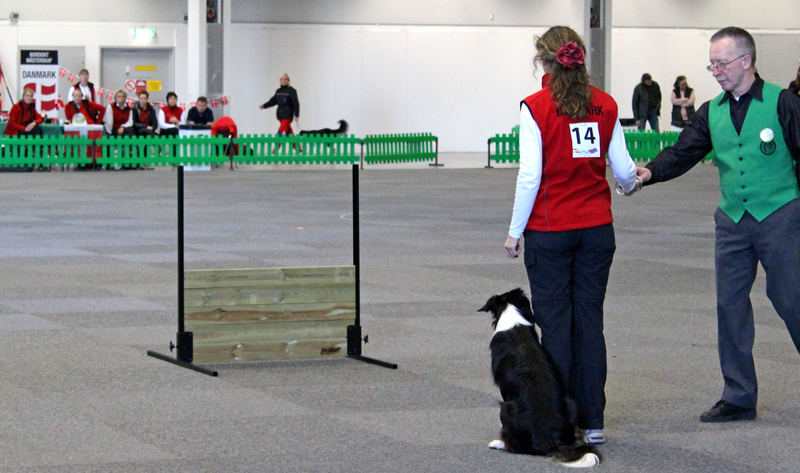 SÅ skulle vi til springet! Jeg stillede mig klar med Lukka ved min side, kastede metalapporten og sagde "Spring-apport". Lukka tog ét galopspring frem mod springet og tøvede. Hun stod trippende foran springet i et split sekund, men for mig føltes det som minutter. Så tog hun mod til sig og sprang over, hentede apporten, løb tilbage mod springet og tøvede igen. Jeg var 100 på, at hun ville løbe udenom. Men igen samlede hun sig og sprang tilbage og satte sig fint på plads. Hold op, hvor var det nervepirrende. Jeg var selvfølgelig smadder lettet men samtidig også ked af det, for jeg kunne jo se, at Lukka ikke syntes, det var særlig sjovt. Men hun gjorde det!!! Og selvom vi naturligvis ikke fik særlig høje point, var det ikke helt så dyrt, som jeg frygtede. Dommerne gav 7,0 – 7,0 – 7,5 – 8,0.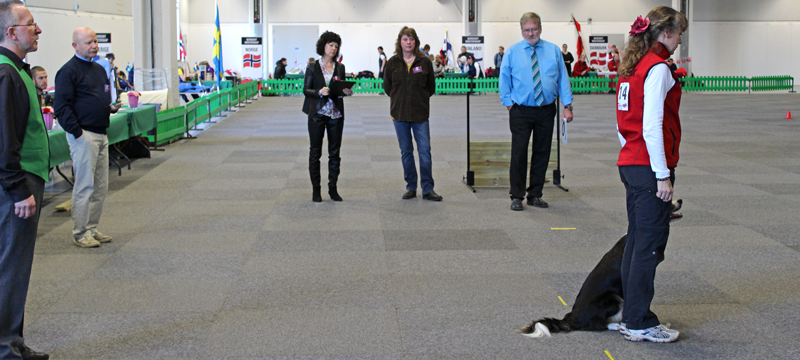 Den allersidste øvelse var stillingsskift. En øvelse som Lukka kan lave til 10, hvis hun er i sit es. Men det var tydeligt, at hun var påvirket af oplevelsen med springet så skiftene var ikke helt så flotte, som de kan være, men hun rykkede sig ikke en millimeter. Til gengæld snuste hun lidt, da jeg gik fra hende, hvilket er MEGET dyrt! Her fik vi 2 x 8,5 og 2 x 9,0.
Så var det hele slut! NM var ovre for vores vedkommende. Søndagen havde ikke været helt så perfekt som lørdagen, men alt i alt synes jeg, Lukka havde gjort det fantastisk. Det med springet var jeg forberedt på kunne dukke op, og jeg er sikker på, at det "farlige" gulv også har påvirket hende i en eller anden grad. Men for pokker hvor jeg er stolt af hende. Jeg har skrevet det flere gange tidligere. Lukka er en MEGET sensitiv hund og måske ikke den optimale konkurrencehund, da hun lader sig påvirke af mangt og meget, men hun er samtidig en helt utrolig dygtig hund, og JEG synes, hun er verdens bedste! Det er jo trods alt det, der vægter højest i sidste ende.
Lukka og jeg endte på en 7. plads. Det lyder måske ikke af meget, men i det selskab er det faktisk super flot. Umiddelbart efter konkurrencen var jeg, et eller andet sted, en smule skuffet, for jeg havde dybt i mit inderste drømt om en plads på skamlen. Men det kræver, at alt går op i en højere enhed og der manglede lige nogle småting. Men vi blev bedste danske ekvipage og slog trods alt alle nordmændene og alle svenskerne på nær én. Det er bare de pokkers finner, der er så afsindigt dygtige. De indtog 7 pladser på top 10! WAU! Tillykke Finland med guldet og med guld, sølv og bronze individuelt.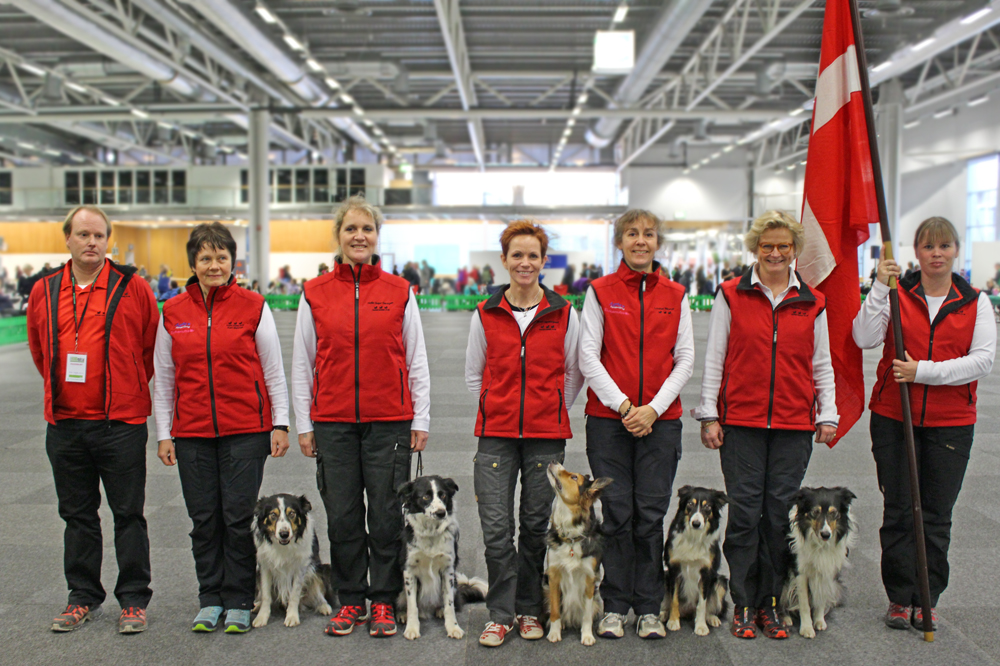 Tak til Sverige for et godt arrangeret mesterskab, tak til hele holdet for endnu en hyggelig tur og kæmpe tak til Christina for at tage med og for altid at være der for mig på alle måder og til alle tider. Næste gang vi skal af sted, vil Lukka gerne bede om, at Senna også tager med. Med hendes seje søster ved sin side er verden ikke helt så farligt et sted