Søndag
Christina og jeg havde valgt at flyve til VM. Vi har tidligere fløjet til og fra Finland med vores hunde. De var ikke vilde med det, men de overlevede ;-). Det gjorde de også denne gang! Men det er stadig meget grænseoverskridende at overlade vores højt elskede hunde til vildt fremmede mennesker. Og tænk nu hvis hundene ikke kom med! Vi var nogle meget emsige passagerer, der spurgte ALLE (stewardesser, piloter, indtjekningspersonale mm.), om hundene var med om bord. Og tanken om, at de skal sidde i et larmende lastrum helt alene er skrækindjagende. Nå, men alt gik godt og vi nåede alle frem i ét stykke.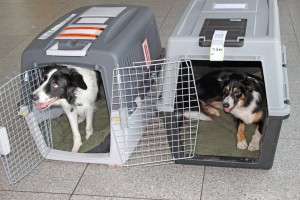 Hotellet lå få minutter fra lufthavnen og var på alle måder et godt hotel, men der var bare ingen ordentlige luftemuligheder. Små stykker græs her og der, forskellige cykelstier og gruspladser var, hvad vi kunne finde. Både Lukka og Senna er hunde, der løber rigtig meget. Og har brug for at strække ud. Det er deres måde at "slappe af" på. Give den gas rent fysisk og få "tømt hovedet" rent mentalt. Så efterhånden som dagene gik, følte vi, at de blev mere og mere anspændte og rastløse.
Det var ikke meget motion det blev til

Mandag stod på afslapning
Mandag var vores "fridag", hvor hundene kunne slappe af og få rejsen ud af kroppen. Det havde været skønt at kunne gå en laaaang tur med dem, men de måtte nøjes med diverse småture og nogle af dem endda i snor!
Tirsdag var der træning
Vi skulle ud i hallen og træne. Hver hund får tildelt nogle få minutter til lige at mærke underlaget og blive komfortabel med ringen. Christina og jeg valgte at gå på banen sammen, så vi fik dobbelt træningstid. Vi har begge været på landsholdet flere gange, så hundene har efterhånden prøvet en del forskellige setups og havde da heller ingen problemer med forholdene.
Onsdag – 1. konkurrencedag
Der stiller 100 hunde op til VM i den indledende konkurrence, fordelt over to dage. Lukka og jeg skulle op som nr. 11 og som den første danske hund. Fællesøvelser gik fint, bortset fra at Lukka rykkede en enkelt pote i sit. Selve programmet gik også rigtig fint. Ingen kiks. Ingen nuller. God power. Der var bare liiiige en lille skønhedsfejl i flere af øvelserne. Som f.eks. lidt lyd i fri ved fod, et lille ryk med kroppen i stillingsskift og et poteflyt i indkald. Småting men DYRE småting! Sådan synes jeg ofte det er til de store mesterskaber. Der sker små uforudsete ting, når adrenalinen drøner rundt i kroppen på hund og fører. Og vi så mange af de rigtig dygtige ekvipager miste øvelser.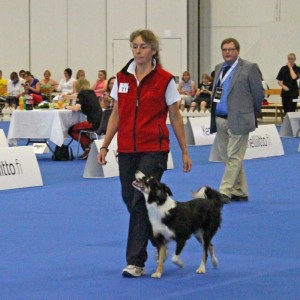 Lukka var skøn at have med i ringen. Hun var virkelig tændt og i hopla. Noget friskere end jeg havde indstillet mig på. Efter dagens konkurrence lå vi på en delt 12. plads, men da det kun er de 20 bedste, der går videre til finalen, var chancerne ikke så store.
Torsdag – 2. konkurrencedag
Torsdag efter frokost skulle Christina og Senna op. Morgenens fællesøvelser gik rigtig godt. Senna var afbalanceret og fokuseret.
Senna er en hund med ufattelig meget energi, og det ville virkelig gøre hende godt, hvis hun kunne få lov til at strække lidt ud. Så vi besluttede at finde en skov, der lå i nærheden af hallen og gå en god tur. På vej derover skulle vi krydse nogle sporvognskinner, og det var så ufattelig uheldigt, at Christinas fod sad fast i den ene skinne, og hun fik sig en voldsom forstuvning. Hun kunne overhovedet ikke støtte på foden. Så var gode råd dyre! Én hentede is hos det nærmeste hotel. Én ringede til dem, der stadig befandt sig i hallen, så Christina kunne blive hentet. Èn gik en hurtig tur i den nærliggende skov med Senna. Og stakkels Christina lå og vred sig af smerte. Kun TRE timer inden hun skulle i ringen. Det var så uheldigt, som noget overhovedet kunne være.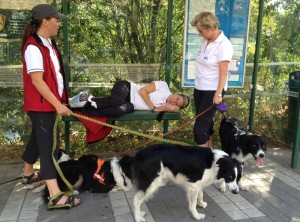 Tilbage i hallen tog samaritterne sig godt af Christina. Få timer senere, med en forstuvet fod og en masse smerter, gik Christina og Senna i ringen. Desværre indledte Senna med at tage den forkerte næseprøve, men ellers var hun bare "på" og gik den bedste fri ved fod længe. Hun var fuld af power som altid, men det var tydeligt at se, at hun tilpassede sig sin haltende fører efter bedste evne, og at hun ind i mellem var lidt desorienteret, fordi Christina på ingen måde var sig selv. Alligevel leverede de et – efter omstændighederne ­– fantastisk flot program!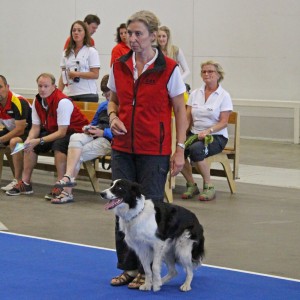 Efter dagens konkurrence måtte jeg med ærgrelse sande, at Lukkas og mit program "kun" rakte til en 21. plads (ud af verdens 100 bedste hunde)! Til VM er det de 20 bedst placerede hunde, der går videre til finalen, så det var så tæt på, som det overhovedet kunne være! Øv øv…
Fredag – finalen
Da den værste skuffelse havde lagt sig over ikke at være med i finalen, kunne vi i ro og mag sidde (for Christinas vedkommende ligge) og nyde de 20 dygtigste ekvipager i verden. En flot finale med en værdig vinder – liiiige bortset fra at føreren på et tidspunkt midt i fri ved fod giver hunden et lille puf/spark med foden, som INGEN af dommerne så!!!
Lørdag
Tidligt lørdag morgen forlod vi Helsinki og fløj hjem igen. Denne gang behøvede vi ikke at være så bekymrede for, om hunden var med om bord, for vi kunne tydeligt høre dem!!! Det var selvfølgelig på sin vis beroligende, men det var også ubehageligt, for det vidnede om, at de var utrygge og utilfredse. De var da også ved at gå ud af deres gode skind af begejstring, da vi fik dem udleveret i Kastrup.
Bortset fra skuffelsen over at være så tæt på og så alligevel så langt fra rent resultatmæssigt, og bortset fra Christinas voldsomme forstuvning og al den smerte det medførte hende, så var det en rigtig god tur. Stemningen var helt i top på holdet, og vi havde mange hyggelige dage og aftener med diverse grineflip og røverhistorier. Tak til hele VM landsholdet 2014 og specielt til Christina & Senna – vores yndlingsrejsekompagnoner – for endnu et dejligt hundeminde til samlingen.