Det er en skønt at få en ny hundehvalp, men det er også et kæmpe arbejde. Hvalpen skal falde til i sit nye hjem, lære det omgivende miljø og hunde og mennesker at kende, og der skal både arbejdes med indlæringen af alle dagligdagens færdigheder og med grundtræningen til den videre lydighedstræning. Det hele skal gøres i et passende tempo, så hvalpen ikke bliver overvældet, men det må heller ikke gå for langsomt, da de første 12-16 uger af hvalpens liv som bekendt er de vigtigste rent læringsmæssigt.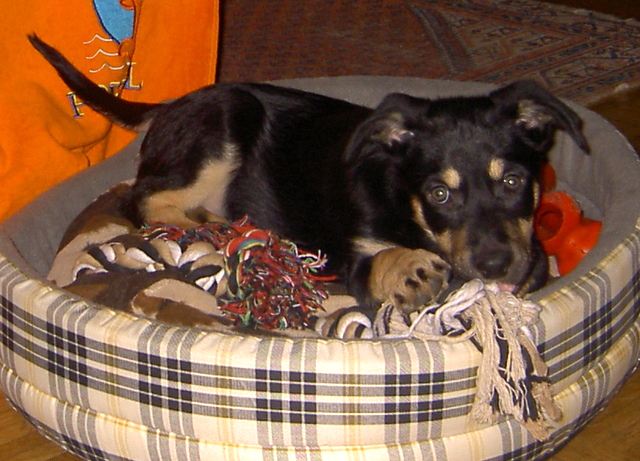 Min nye hvalp Joey er nu 13 uger gammel, og vi er godt i gang med træningen af en masse ting. Jeg betragter alt, hvad jeg laver med Joey som træning, da han jo er i gang med at lære noget hele tiden. Han lærer en masse om livet hos mig i hverdagen, om det miljø vi færdes i til daglig og om, hvordan vi arbejder sammen i selve lydighedstræningen, som er min første prioritet for vores (på sigt) konkurrenceorienterede træning.
I dagligdagen har jeg fokus på en række områder:
Tilvænning til at være sammen med mine tre andre hunde; tre søde beagler på hhv. 16, 11 og 10 år, som heldigvis har taget godt imod Joey. De leger nu med hinanden og ligger i arm i sofaen.
Tilvænning til rutiner for hhv. ro og aktivitet i hjemmet og begrænsning af muligheden for at være i hele huset i nogle situationer. Jeg startede med en lille kravlegård til Joey i stuen og børnegitter mellem entre og stue. Kravlegården blev hurtigt overflødig, og jeg anvender nu børnegitteret, når jeg kun vil have Joey i entre og køkken, og når hundene er alene hjemme, hvor de ikke har adgang til stuen. Disse begrænsninger er allerede blevet en selvfølge for Joey, og han er helt ok med at være bag det lukkede gitter, både når jeg er hjemme, når hundene er alene hjemme, og når jeg træner dem en ad gangen i stuen, mens de andre venter i gangen bag gitteret på, at det bliver deres tur.
Sove i bur om natten. Jeg har haft Joey i bur om natten helt fra begyndelsen. Han er lige ved siden af min seng, så jeg kan høre ham. De første nætter gav han et lille pip, når han skulle ud for at tisse og gik fint i seng igen bagefter. Nu går han selv i seng i buret om aftenen og sover igennem uden at skulle ud de fleste nætter. Denne træning har givet den ekstra bonus, at Joey helt automatisk er blevet ok med at være i bur. Jeg arbejder også på, at Joey kan være i bur, når jeg har ham med ude. Det er en vigtig færdighed, da jeg ofte har mine hunde med, både når jeg underviser, og når jeg besøger venner og familie.
Alene-hjemme-træning hænger tæt sammen med træningen af de to ovenstående punkter, der har at gøre med at lære hvalpen, at der er begrænsninger for dens bevægelsesfrihed. I starten sørgede jeg for ofte at gå ud af huset ganske kortvarigt, f.eks. lige ud til postkassen, ud med skraldeposen eller ud i mit fyrrum, hvor jeg lukker døren og dermed forsvinder – uden at gøre noget stort nummer ud af det. Joey har heldigvis taget denne træning med stor ro, og han er helt ok med, at jeg forsvinder ind imellem. På nuværende tidspunkt kan jeg være væk i op til ca. fire timer.
Håndtering er for mig en meget vigtig grundtræning for hundehvalpe, og jeg prøver at integrere denne træning i hverdagen, så jeg gør en lille smule hver dag. Nogle gange holder jeg lidt rundt om Joeys hoved eller på en pote, når jeg nusser ham, andre gange får jeg lov til at løfte læberne og se lidt tænder. Det foregår alle mulige steder; i sofaen, på gulvet, på trimmebordet osv. Han har også fået sit første bad efter en tur i en mudderpøl, hvilket gik super fint.
Bilkørsel var i første omgang et stort problem, da Joey var meget ked af at være med i bilen. Hans historie er beskrevet i min foregående blog, så jeg vil nøjes med at nævne, at kiropraktorbehandling løste problemet, og at det forsat går rigtig godt med at have ham med i bilen, både sammen med beaglerne og alene.
Gåture er en vigtig del af mit samvær med mine hunde. Joey har været med på små gåture helt fra begyndelsen. I første omgang var det ganske korte ture i snor lokalt sammen med søde gamle Socks på 16 år. Her er fokus på at se på omgivelserne, stoppe op og tage kontakt til mig og få belønning for det, og kunne abstrahere fra de biler, der kører forbi, så fokus er på mig og ikke på at hyrde biler. Nu kan Joey gå lidt længere, og vi går både korte ture i snor og ture i skoven og på stranden, hvor han løber løs.

Indkald er en af de helt centrale færdigheder. Det arbejder jeg både med i min grundtræning til lydigheden inde og ude herhjemme og på gåturene, hvor han får masser af belønning for både selv at tjekke ind, når han er løs og for at komme, når jeg kalder. Jeg arbejder også med at vænne Joey til, at han får belønning, når jeg rækker ud og tager fat i hans halsbånd eller sele, så han forbinder det med noget rart. Det gør jeg både i træningen hjemme, på hvalpehold og på gåture, hvor Joey er løs.
I de første uger har jeg lavet en række aftaler med venner, der har søde hunde, så Joey har haft mulighed for at møde hunde af forskellige racer, typer og alderskategorier. Jeg har haft Joey med på arbejder, hvor kursisterne har deres hunde med. Vi er også begyndt til hvalpetræning to steder, hvor han har mødt nogle søde hvalpe. Det går rigtig fint, og vi fortsætter med disse møder, så Joeys oplevelse af at møde andre hunde er så positivt som muligt.
Joey er vild med at møde mennesker og ser langt efter folk på gaden, der går forbi uden at ænse ham. Min største opgave i denne forbindelse er pt. at lære Joey, at han ikke kan hilse på alle, og at han skal have fire poter i underlaget, når han får lov til at hilse.
Renlighedstræning har jeg selvfølgelig arbejdet på fra første dag. Selvom vejret bestemt ikke er det bedste til renlighedstræning af en lille hvalp, går det godt med at få Joey til at besørge i haven, og han er også dygtig til at gøre det på gåturene. Han er begyndt at gå til døren, og med lidt hjælp fra mig til at minde ham om, at han ind imellem trænger til at komme ud, går det rigtig godt med renligheden.
Ud over at arbejde videre med alle de ovenstående færdigheder, har jeg pt. tænkt at inkludere endnu et par emner i min dagligdagstræning: byt til bedre, så Joey lærer at slippe ting, han har fundet, som jeg ikke ønsker, at han skal tygge på eller spise og for at forebygge evt. ressourceforsvar; være i ro i træningen, som bliver burtræning i stil med Susan Garretts crate games.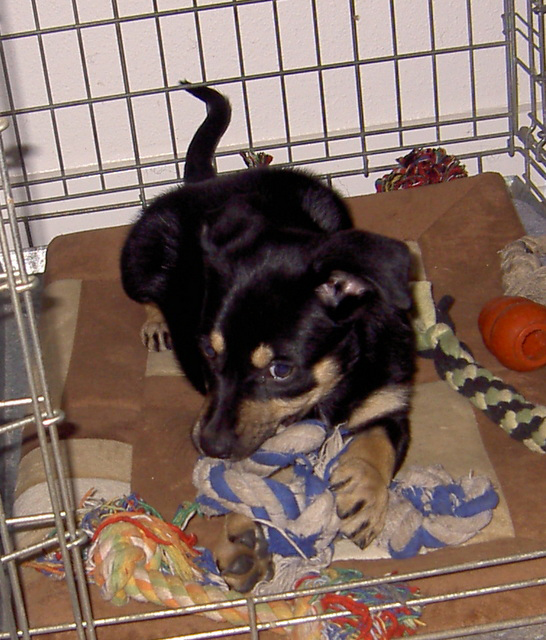 Den anden halvdel af Joeys træning handler om at komme godt i gang med den grundtræning, som skal udgøre basis for den senere træning af lydighed og de andre hundesportsgrene, som vi på sigt skal arbejde med. Her arbejder jeg ud fra klikkertræningens principper og den grundtræning, vi kalder KLIK-konceptet, som er beskrevet i KLIK dig til succes, som Christina Ingerslev og jeg har skrevet sammen. Klikkeren betingede jeg, da Joey var ca. 6 uger gammel ved et par af mine mange besøg hos opdrætteren, hvor jeg havde ham lidt for mig selv i ca. ti minutter og præsenterede ham for, at kliklyden blev efterfulgt at lækre godbidder. Joey er vild med godbidder og lærte hurtigt, hvad klikket betød, så vi var klar til den videre træning, da jeg fik ham hjem.
Jeg har arbejdet med øvelser i de fire kategorier i KLIK-konceptet. Jeg arbejder typisk med øvelserne i korte serier af 4-8 gentagelser og øger gradvist sværhedsgraden i takt med, at Joey bliver mere sikker i øvelserne.
Kontakt
Tjek ind er den grundlæggende kontaktøvelse, som jeg bruger både i træningen hjemme og nu også på gåture og til hvalpetræning. Joey tilbyder fint spontan kontakt i forskellige miljøer.
Slip belønningen lærer hunden at "give slip" på synlige belønninger og i stedet tilbyde øjenkontakt. Vi laver øvelsen, både hvor jeg holder hænderne ud til siden i min egen skulderhøjde med en godbid i hver hånd, og hvor jeg holder hænderne bag ryggene eller ned langs siden. Træningen går fint, og Joey tilbyder sikkert kontakt, når jeg holder hænderne i de forskellige positioner.
Godbids return to sender har vi arbejdet lidt med inden døre, hvor jeg kaster en kedelig godbid lidt væk og belønner med noget super lækkert, når Joey vender tilbage til mig efter at have spist den kastede godbid. Øvelsen skal på sigt udvides til at kunne foregå på steder med en masse forstyrrelser.
Leg
Joey er vild med legetøj, og trækkeleg har været en ren foræring med ham. Jeg har trukket lidt med ham med hans eget legetøj helt fra begyndelsen. Det har jeg nu udvidet til, at vi leger trækkeleg med det legetøj, jeg tilbyder ham i træningen, som han ikke har adgang til på andre tider. Han giver den fuld gas, når han trækker, og jeg kan allerede belønne med en omgang trækkeleg i stedet for godbidder i træningen.
Dead or alive har vi trænet lidt med to stykker ens legetøj. Joey fangede hurtigt ideen med at slippe det "døde" stykke legetøj og i stedet tage det aktive. Han har også lynhurtigt forstået, at når jeg bliver passiv, så skal han slippe legetøjet.
Return to sender har vi ikke arbejdet med endnu, men den kommer med i vores repertoire inden længe, så jeg kan kaste et stykke legetøj og belønne med trækkeleg, når Joey kommer tilbage med legetøjet.
Initiativ
Snudetarget på min håndflade, på et lille plastiklåg jeg har i hånden og på enden af en targetstick er nogle af mine foretrukne tidlige træningsøvelser, som vi arbejder en del på. Joey dutter fint, men vil gerne bruge åben mund ind imellem, så fokus er pt. på lukket mund og derefter på fastholdelse af adfærden.
Potetarget hvor Joey står med forpoterne på et fladt target (ca. 4-5 cm højt) går også fint. Han kradsede på det første target, jeg brugte (bordskåner af kork), men står nu fint og roligt på et kvadratisk target af metal. Vi arbejder både på at fastholde ståadfærden på target og på, at Joey opsøger det på lidt afstand, når jeg har kastet en godbid væk fra target.
Hide er en ny targetøvelse, vi har lært til hvalpetræning hos Johanna Allanach. Her skal Joey stikke hele hovedet ind i en kegle og på sigt fastholde positionen.
Papkasseøvelsen er den klassiske initiativøvelse. Jeg bruger en anden genstand, men ellers følger jeg principperne for øvelsen, hvor jeg belønner for de tilbud, Joey giver, hvor han skubber til og træder på genstanden med snude eller poter. Vi arbejder også på lidt vedholdenhed her, hvor jeg ikke belønner for alle forsøg. Joey har fint fanget ideen, og jeg er begyndt at se, at ideen med at prøve igen, prøve mere og prøve noget andet kommer til udtryk i træningen af de andre øvelser, når jeg tilbageholder klikket.
Kontrol
I belønningskontrol har jeg indtil nu arbejdet med tre øvelser: 1) Tag pænt, hvor jeg lukker hånden om en godbid og afventer, at Joey trækker næsen lidt tilbage, indtil jeg åbner hånden og lader ham tage godbidden. 2) Hold positionen, hvor jeg frister med et stykke legetøj, som jeg bevæger lidt frem og tilbage, mens Joey venter på sit release-signal "tag den" og får en god omgang trækkeleg som belønning. Vi træner øvelsen både i sit og stå, og når Joey står med forpoterne på det flade target. Han fangede ideen meget hurtigt, og jeg kan gradvist friste lidt mere aktivt og tættere på ham. 3) Ignorer udlagte fristelser er vi så småt gået i gang med. Her stiller jeg en skål med tørre godbidder på gulvet og belønner Joey, der er i snor og på afstand af skålen, for at tilbyde mig kontakt i stedet for at se på skålen. Joey er meget glad for mad og meget grådig, så denne øvelse lærer ham, at han kan få noget bedre ved at vælge fristelsen fra og i stedet tilbyde mig kontakt.
Selvkontrol arbejder vi lidt med i det daglige i forhold til at vente på ok til at komme ud af buret i bilen, og når Joey skal have sin mad i skål, hvor han pænt venter på release-signal til at gå i gang med at spise.
Kropskontrol er vi begyndt på i det små. Vi har leget lidt med balance på en legeplads og er så småt gået i gang med elefantøvelsen, hvor Joey skal stå med forpoterne på en omvendt balje og dreje rundt om sin egen akse ved at flytte bagbenene til siden. Jeg har et fitness vippebræt, som vi også skal i gang med at træne på.

Kernekompetencer
Ud over øvelserne i KLIK-konceptet, er jeg også så små gået i gang med at introducere nogle af kernekompetencerne, som er de elementer, som selve lydighedsøvelserne består af. Vi har indtil videre arbejdet med følgende:
Løbeleg til indkald
Her har jeg kastet en godbid i græsset og er så løbet væk fra Joey. Når han indhenter mig, får han en god omgang trækkeleg som belønning for at spurte hen til mig. Jeg løber også ind imellem lidt væk fra ham på stranden, hvor han kan se mig og belønner med godbidder, når han kommer susende.
Gribe om apport
Snudetarget på og greb om midterstykket af en apport er vi også godt i gang med. Jeg holder pt. apporten helt nede ved gulvet, så Joey sænker hovedet for at lave grebet om apporten. Vi har også arbejdet lidt med tease, hvor jeg holder en håndfuld godbidder i den ene hånd og apporten i den anden. Joey bliver så belønnet for at fravælge godbidderne og i stedet tilbyde grebet om apporten. I vores seneste træningssession tilbød Joey et spontant optag af apporten fra gulvet flere gange, så vi er godt på vej videre i øvelsen.
Stå på target i pladsposition
For at give Joey en oplevelse af at positionen ved min venstre side er et godt sted at være, har jeg belønnet ham for at stå på det kvadratiske target, mens jeg står ved siden af det, så han står i pladspositionen. Han får belønning for at indtage positionen og for at blive stående i positionen.
Når jeg læser det ovenstående igennem, virker det omfattende, men det føles ikke sådan, når jeg ser på, hvordan min hverdag er med Joey. Meget af træningen er inkorporeret som en del af de daglige rutiner, og grundtræningen af øvelserne i KLIK-konceptet arbejder vi med i små træningssessioner på ca. ti minutter dagligt eller næsten dagligt og når vi er til træning. Det går super godt med det hele, og Joey synes, at træningen er en fest – præcis som jeg synes, at det skal være.